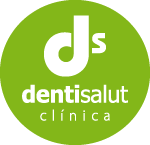 DENTAL EMERGENCY SERVICE in Barcelona.
Odontological emergencies in Barcelona.
Emergency telephone number
Dentisalut Dental Clinic
At Dentisalut we offer emergency services for the main dental treatments in our clinics, so if you are looking for an emergency dentist in Barcelona, do not hesitate to contact us.
Our centers in Diagonal, Nou Barris and Sants are equipped with modern and welcoming facilities, and with professionals with more than 15 years of experience in the sector.

Integral emergency service
We offer emergency treatments in: general dentistry, implantology, oral surgery, orthodontics, dental aesthetics, dental prosthetics and pediatric dentistry.

More than 15 years of experience
We are staffed by highly qualified professionals and specialists with extensive trajectory and great experience.

1h FREE parking
In addition, you will find us close to different routes of public transport.
Emergency services
At Dentisalut we offer emergency services for the main dental treatments.







Dentisalut solves your dental emergencies
At Dentisalut we have all the resources to solve any dental emergency. Thanks to our state-of-the-art dental technology, we can perform all treatments with conscious sedation in a single session, offering the patient a quick and pleasant visit while avoiding unnecessary costs and journeys.
We also perform integral treatments in 1 day to avoid unnecessary patient mobility as much as possible. Our team of specialists in different areas of dentistry work in coordination to diagnose, plan, develop and supervise the integrated dental treatment.
We offer payment facilities and affordable prices
From DentiSalut we offer payment methods adjusted to the particular needs of each patient so that everyone can have access to quality treatment and get a good oral health.
Financing from 12 to 36 months interest free.
We finance up to 5 years.
Advantages in advanced payments.
Payment according to the treatment's steep.
Domiciliary payments, in prolonged treatments such as orthodontics.
Restore your smile in less than 24 hours

Dental clinics in Barcelona with more than 15 years of experience performing high quality dental treatments.
Dentisalut Diagonal
Av. Diagonal 310,
08013 Barcelona
Tel. 93 025 26 32
Dentisalut Sants
C/ Creu Coberta, 54
08014, Barcelona
Tel. 93 315 85 57
Dentisalut Nou Barris
Pl. Garrigó 18
08016, Barcelona
Tel. 93 408 51 97