DentiSalut
A new way of understanding dentistry.
Dentisalut, your dental clinic in Barcelona
At the forefront of dental technology

With more than 15 years of experience

Trusted dental clinic for the whole family

Affordable treatments and prices
Welcome to Dentisalut
A clinic backed by its success with more than 15 years of experience in the field of advanced dentistry.
In our dental clinic you will find all the dental services you need with the advantage of the best personalized, human and committed treatment.
Its founder, Dr. Juan Carlos Torres, is a dentist, implantologist, and renowned professor in the city of Barcelona, an expert in dental implant treatments using the most advanced technology in implant surgery, offering this way high precision results.
Dentisalut Services
At Dentisalut we offer the best dental treatments

Treatments in 1 Day
Comprehensive dental treatments for functional and esthetic problems.

All-On-4 Implants
Replaces missing teeth in just one day in an effective and reliable way.

Invisible Orthodontics
They will go completely unnoticed! Practically invisible and without the need for braces.

Orthofacial Harmonization
Aesthetic-facial improvement where the teeth complement the smile as a whole.

Conscious Sedation
Afraid of the dentist? Forget about this problem with dental sedation.
Dentisalut Team
The key to success
We are a consolidated team with years of experience whose goal is to help you regain your dental health. We are constantly training to be able to offer all our patients the latest advances in dental treatments to guarantee the best results.
In our clinic you will find a close, friendly and personalized treatment for each patient. We take care of your dental health and your whole family's too.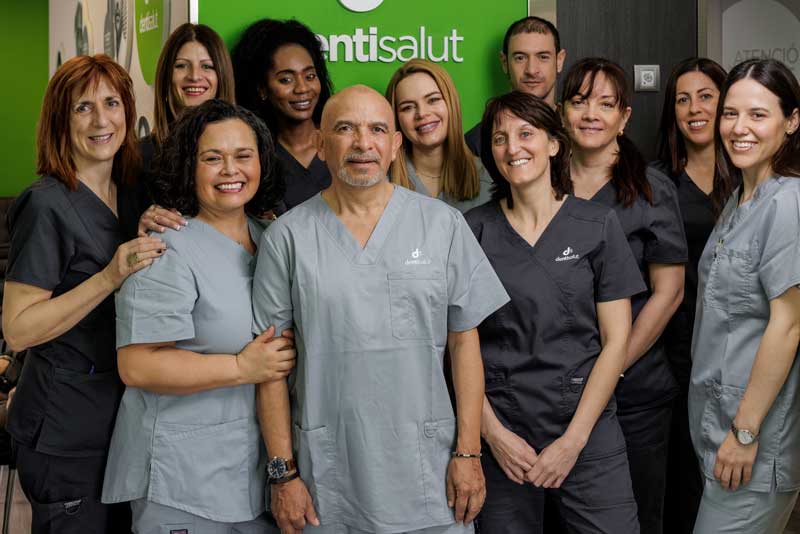 Nou Barris
Pl. Garrigó 18
08016, Barcelona
Tel. 93 408 51 97
Sants
C/ Creu Coberta, 54
08014, Barcelona
Tel. 93 315 85 57
Diagonal
Av. Diagonal, 310
08013, Barcelona
Tel. 93 025 26 32